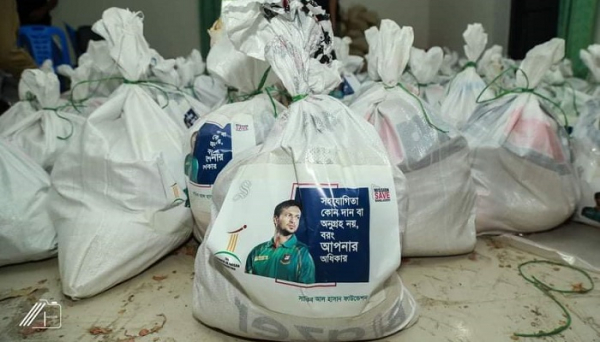 Shakib Al Hasan has been working for helpless people from the very beginning of the difficult time created due to coronavirus. He has extended a helping hand to many families through his foundation named 'Shakib Al Hasan Foundation'. This time, the all-rounder has sent gifts to more than 350 families in Bogura.
Former students of Bogura Zilla School distributed these gift items on behalf of Shakib Al Hasan Foundation at Matidali High School premises in Bogura on Thursday. Shakib's teammate Mushfiqur Rahim's father Mahbub Habib was present during the distribution of gifts.
At the time, he said, 'People are for people. It is as true socially as it is religiously. The Shakib Al Hasan Foundation stands by those who are passing difficult times in the current situation all over the country.
Regarding the program, Ahsan Habib Nafi, a student of Bogura Zilla School's SSC-2013 batch, said, "We are cooperating on behalf of Shakib Al Hasan Foundation."
"We are all proud of the Shakib Al Hasan Foundation," said Eshraqul Haque, a student in the same batch.
Shakib Al Hasan is currently staying in America with his wife. A few days ago, Shakib becomes the father of the second daughter. Although he is not in the country, the Tiger all-rounder is helping people through his foundation.